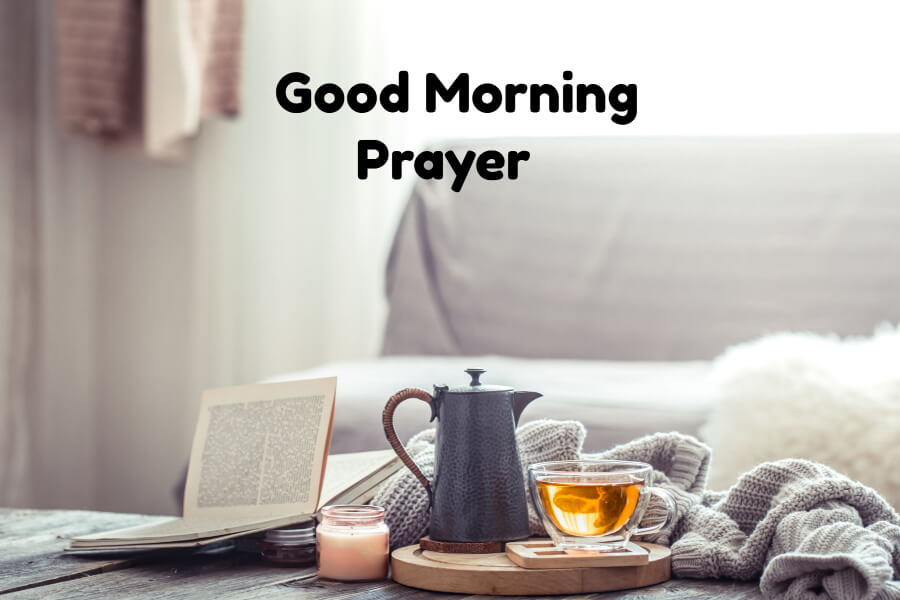 Good Morning Prayer For My Wife
Prayers are a vital part of our existence, it strengthens our faith in God, and gives us hope for a better life with God. The morning is considered special as it marks the beginning of the normal cycle of a day.
Saying a prayer for your wife is one of the best ways to prepare her for all the rewards and challenges of the day ahead.
In this article, you will find lovely good morning prayers for wife that will help set the tone for her day and uplift her spirit when faced with challenges.
You may also like to check out: Good Morning Prayer For My Husband
Powerful Good Morning Prayers For My Wife
As the sun shines brightly, banishing the darkness of the night, so shall the Lord vanquish all your foes and cause you to shine among your peers. Go and prosper my lovely wife.
May God fight every seen and unseen battle that may try to hinder you from your goals today my love. I trust fully in God's ability to care for you; I love and cherish you, wife of my youth.
Because the Lord is your God, what is difficult for others shall be made easy for you. And when others say there is casting down, for you, it shall be a lifting. Good morning, my Love.
Mercy will come to you when you need it. Grace will find you when you desire it. Favour will locate you when you wish for it. No good thing on earth shall elude you. Good morning to you dear wifey.
God's word has promised to return all the years of loss you have suffered, so as you step out today my lovely wife, may every good thing locate you. Amen!
In the morning, the stream flows without turbulence. As you wake to the beautiful light of this day, your life will move on steadily without turbulence as the morning stream. Good morning my wife.
I speak to you as you wake this morning, wherever you have been rejected, heaven is issuing you an acceptance letter today. Go ahead today and soar in the realm of eagles. Good morning, my wife.
May your words be seasoned with grace and wisdom, and everyone who crosses your path will be grateful to God that they met you today. Good morning my wife.
My darling, as you open those beautiful eyes of yours and behold the bright morning sun, may the day be fruitful and successful for you. Have an awesome day my lovely wife.
Having you in my life is a blessing I can never take for granted. So I pray for you my lovely wife, that God's blessings upon your life may abound forever. Have a marvelous day sweetie.
You shall not lack any good thing today and henceforth because the Lord is your shepherd. He will make provision for the tiniest of your needs. Good morning sweetheart.
Good morning beautiful wifey!! Whatever it is that has been hindering your long-awaited blessings from getting to you shall be rolled away today. And you will possess your possessions.
Your labor of love will never go unrewarded. As you have dedicated your life to love me unconditionally, I pray that the heavens bless and protect you all through the day. Good morning precious wifey!
The journey of today will never be bigger than you. You will succeed in everything you do as you start the day. Good morning, dear wife.
My lovely wife, good morning to you. I want the best for you so I ask heaven to present you with a gift on my behalf. You will be favoured everywhere you go.
Good morning my wife, may all your dreams come to pass and all those who seek to mock or harm you shall be put to shame. May your hopes never be dashed and may you end the day with countless testimonies. In Jesus' name, Amen!
I pray for my wife today and every day. I pray that she will be blessed with peace, joy, and love. I pray for her happiness and well-being. I pray that we never lose our love for one another. May God bless my wife with faith, beauty, and wisdom today and every day.
I sincerely pray that the Lord opens doors of uncountable blessings and unmerited favor for you everywhere you face today. As you step out today, all you do shall be blessed and favored. Good morning, my love.
The new day has come with new opportunities. As you open your eyes to start the day, may your life be full of freshness and newness all day long and forever. Go and have a blast, my darling wife.
Good Morning queen of my heart, as you start your day may everything fall into place to bring positive results your way.
Special Morning Prayers For My Wife
Good morning my wife, may the mercies and blessings of God be with you all through the day and forever. Anything or anyone who will try to rise against you shall be disgraced because you are the beloved of God. Step out and shine wifey.
Every good thing you have lost will start to find their ways back to you today. And everything you hate in your life shall disappear. Have a wonderful day ahead.
You shall be like the tree planted by the riverside that brings forth fruits at the due time. You will be fruitful in what you do in Jesus name. Have a fruitful day Honey.
Every device of the enemy to cause you pain today is effectively broken. I speak a word of victory into your day my wife, go and prosper.
The Lord will be a mighty pillar backing you up in every endeavour you choose and in every project assigned to you. Success is your companion. Good morning dear.
The Lord will guide you and keep you. His light will always shine on you and give you peace that surpasses human understanding. Good morning, lovely wife.
Comfort and peace reside with those who have an affinity for it. Your comfort will not be denied you and your peace never traded for anything. Good morning, my beautiful wife.
Today, God in his infinite mercies shall grant unto you all your aspirations, beyond your imagination! Good morning, sweetheart.
Beauty erodes and flowers wither. May your joy and expectation never wither. As you step out this morning, you'll never have reason to regret. Good morning to you, my wife.
As you step out today my darling, may the Joy and peace of God be upon your life. Whatever you do shall prosper and wherever the soles of your feet shall tread upon will yield their increase. Have a lovely morning my sweet wife.
Today, the Lord God will arise and bless you beyond your desire for the day. You will end this day in testimony. Good morning, dear wife.
I pray for you that as you go about today's tasks, may God fill you with his wisdom, understanding and excellent spirit
A lovely morning to you, my lovely wife. Your path will always be illuminated by the Light of the Word of God and the lamp of his word will watch your feet.
As soon as the days breaks, everything goes back into motion. As you step out this morning. May your speed never dwindle. Rise on and go up on heights. Good morning, my wife.
As from this morning, your lack shall begin to give way to abundance. You'll have plenty and never borrow again! Good morning, my love.
Beyond your reasonings and requests, God shall visit you with good tidings and put a new song into your mouth, today and beyond, in Jesus' name. Good morning, my heart.
Good morning beautiful. My prayer for you this morning is abundant wisdom to manage resources handed over to you as you step out today.
Every evil eye set to monitor your steps today shall become blind. Every soul set to do you evil today shall be destroyed and condemned. For you bear on your body, the marks of God. Good morning my love.
My treasure, let nothing trouble you today because I have prayed to God to guide and protect you. He will give you wisdom and order your steps in all your endeavors. So start your day with confidence honey and see the wonderful hand of God.
Your victory will be resounding. Your blessing overflowing and favour unlimited. Good morning to you, my lovely wife.