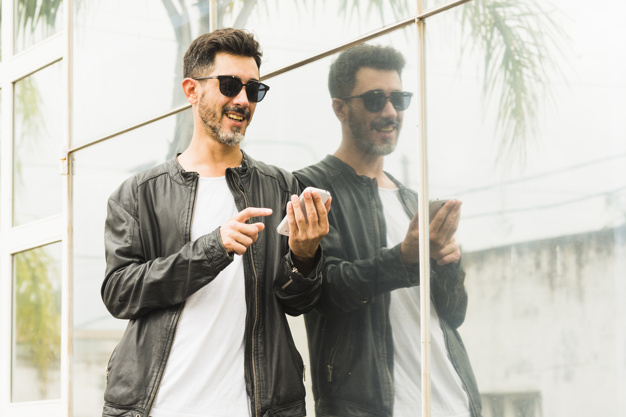 Love Messages To Make Him Smile
A simple love message to your man can help lighten up his day and make him feel lively. Knowing that your woman is thinking about you is enough to put a smile on the face of any man. Men love it when their woman expresses how much she adores the bond they share and how much she longs to see them again.
Be the reason why your man smiles at his phone, send him a romantic message that will put a smile on his face and make him long to have you in his arms again.
Below, you will find a collection of romantic text messages that will put a smile on the face of that special man in your life.
You may also like to check out: Romantic Text Messages To Make Him Fall In Love
Romantic Messages To Make Him Smile
Meeting you was the best thing that ever happened to me. I love you
My favorite sound is your chuckle. My favorite feeling is your arms around me.
Hey handsome, all my friends are jealous of me and wants a man like you, well I told them I'll be selling you anytime soon. Hope you're ready to be sold.
Yesterday I did love you. Today, I love you. Tomorrow and forever, you'll be the only one to love.
How's your day going? I'm in need of a handsome man later.
I can't explain the way you make me feel when I hear your voice or see your face, but I adore it.
You're my weakness as I'm yours, you're my strength as I'm yours, you're my happiness as I'm yours, you're the reason for everything I am darling, you're just all I ever want.
You are the only man I ever want in my life. You make me feel whole. You are the perfect man for me
OK, I need you to list a few things that are wrong with you because I can't find any! You are perfect in my eyes.
Every road I turn down, I see you there. You are in every breeze, every flower, and every shining moment of my day.
Your smile is the medicine to all my worries and pain and they heal me faster than any drugs, I'm sick and worried now, would you please smile for me and heal me faster.
It's been said that you only truly fall in love once, but I don't believe it. Every time I see you, I fall in love all over again.
My darling, every beat of my heart aligns with the rhythm of your breath. We walk alongside each other in this life, every step of the way, until we are old and grey. I love you with every fiber of my being.
It is not being in love that makes me happy… but it's being in love with you that makes me happy.
Dearest, a seconds without you feels like a lifetime and like an eternity, I miss even the smallest thing about you especially your smile, do me a favor by smiling for me honey.
Sweetheart, I can't ignore this magical love. It feels great being in love with someone so handsome, kind, and loving.
I know I'm in love. The words: tender, affectionate, handsome, strong and resilient are no longer a bunch of words. They are you.
There are only two times that I want to be with you: Now and Forever.
Honey, in the midst of millions and crowd, I'll easily recognize you because your smile differs from others and you're just close to perfection my darling.
I never thought I would find the man of my dreams, and then you walked into my life. How amazing is that?
Love Text Messages To Make Him Smile
Feeling the breath of love and passion, I enjoy every moment with you, they are the best I can ever have or ask for, you're just my one in a million.
If I could give you one thing in life, I would give you the ability to see yourself through my eyes, only then you would realize how special you are to me.
If I had a dollar for every time you made my heart skip a beat, I would be the wealthiest person alive. I would spend every last dime to make you happy and give you the life that you deserve. Meeting you was like winning the lottery already.
Thank you for forgiving me when I've let you down, for believing me when no one else did and for sticking with me through thick and thin. I will always love you.
You smile serves as my comfort, your chest is my resting place, your love is the blanket that covers me from cold and your warm breath heal my soul. I love you baby!
Every time I close my eyes, I see your sweet face. And whenever I think about us, I can't help but feel content. I am so happy that we have each other.
You are one in a million, and I am your crazy minion.
You're the missing piece of my puzzle.
Darling you have unleashed the source of joy in me, you gave me the strength to love again and I'm enjoying every bit of it, this love journey has been really smooth because you've carefully construct the road to my heart. I love you my darling engineer.
It's a brand new day, and everything is totally different than what it was yesterday, except for one thing: my love for you.
I feel like I am daydreaming when I am with you. I would love to wake up next to you forever.
I don't have all of the words to express how much you mean to me. I can only say that you are the center of my life and everything else revolves around our love for each other.
Just when I think that it is impossible to love you any more than I already do, you prove me wrong.
You are the best thing that has ever happened to me. You make me unbelievably happy.
Just a note to remind you I'm thinking about you
Most women have a certain degree of fear about growing old, as did I. However, as long as I get the opportunity to grow old with you, I know I'll be just fine.
I love you for all that you are, all that you've been, and all that you're yet to be.
I love how we do everything with a crazy passion, even the way we fight! I love how within five minutes of telling you I don't want to talk to you, I forget all about it because I remembered something crazy that I just have to share with you!
I must have done something good, I must have prayed hard, I must have been really good to deserve somebody as sweet as you are, thank you for coming my way.
Good morning! I just wanted to send a quick text to make you smile. I love you, baby.
You May Also Like
April 30, 2021
April 15, 2021
December 6, 2020